Anzac Eyewitnesses
In addition to the volume of survivor, eyewitness, and diplomatic evidence on the Armenian, Greek and Assyrian Genocides, there are eyewitness accounts by Australian and other Allied servicemen from World War One (WWI). These prisoners-of-war, infantrymen and cavalrymen describe their own experiences of witnessing these events throughout the Middle East.
A grounbreaking report by the ABC on the Anzac link to the Armenian Genocide aired on 21 August 2013 see http://www.abc.net.au/news/2013-08-21/turkey-threatens-nsw-parliament-over-armenian-genocide-vote/4903444
At least 217 Anzacs are known to have been captured as prisoners on all the major battlefronts where they faced the Ottoman Turkish forces: the Sinai Peninsula (present day Egypt) and Palestine; Mesopotamia (present day Iraq); as well as the Gallipoli Peninsula and the Hellespont (Dardanelles). Almost one-third of them died in captivity. See http://www.awm.gov.au/exhibitions/stolenyears/ww1/turkey/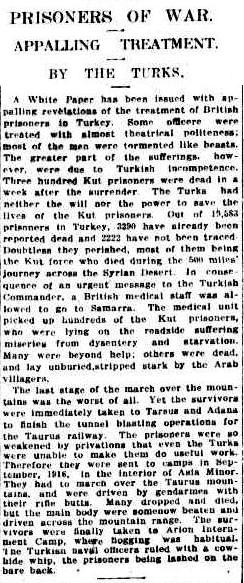 Sydney Morning Herald, 22 November 1918, p. 8. National Library of Australia


Many of these prisoners-of-war in the Ottoman Turkish Empire – members of the Australia and New Zealand Army Corps -witnessed the events surrounding the Armenian, Greek and Assyrian Genocides.
A large number of Anzacs were held in the churches and homes the Armenians and Greeks were forced to abandon. Perhaps the most well-known Anzac POW in Ottoman Turkey was Captain Thomas Walter White, a pilot of the Australian Flying Corps. On 13 November 1915, White was captured by Ottoman soldiers while on a mission to cut telegraph wires near Baghdad. White had his first encounters with the Armenian tragedy when he reached a formerly 'mainly Armenian town' called Tel Armen in northern Mesopotamia. He noticed that only very few women and children of the Armenian population had remained, the males 'being conspicuously absent\'. After climbing a little rise, he found 'thirty-six newly made graves which spoke eloquently of what had become of the Armenian men'. He noticed a little girl who had been watching him from a side street and looked pleadingly towards him. Poweless to help her, White was 'horrified ... learning later that these massacres had been simultaneous and to order throughout the country.

White was taken to the Sourp Asdvadzadzin Armenian church at Afion Karahissar, a town in western Turkey. Before the war, the Armenians had made up about one-third of the town's inhabitants. By November 1915, most of them had been massacred or deported to the Syrian and Mesopotamian deserts. Arriving at the church, White observed a number of women and children sitting outside on bundles of clothing: 'They looked sad and miserable, and little wonder, for their menfolk had been killed, their houses and furniture confiscated and now they were being turned into the street from their last possible sanctuary'.

The circumstances of the war also made Anzacs rescuers of the survivors of the Armenian genocide. During the northern summer of 1918, the Dunsterforce (an allied military unit composed of Australian, New Zealand, British and Canadian soldiers) rescued some 40,000 Assyrians and Armenians from south-eastern Anatolia (present day Eastern Turkey) and north-western Iran by bringing them to the relative safety of British Mesopotamia (present day Iraq).
There are also a number of cases where Imperial Camel Corps personnel (Australia soldiers) provided sanctuary for Armenian Genocide survivors in the Jordan River Valley in 1917 and 1918. In a touching display of humanity amid the horrors of war, Anzac Colonel Arthur Mills carried a 4-year-old Armenian girl, sleeping in his arms, on his camel to safety. See http://adb.anu.edu.au/biography/mills-arthur-james-7591
During and immediately after World War One, the experiences of Anzac soldiers and their reports of the annihilation of Armenians, Greek and Assyrians eventually reached Australia. These stories were widely reported in Australian media. Hundreds of articles were published in the major Australian newspapers during this period detailing the experiences of Anzac soldiers and POWs.
Many of the Anzacs that returned to Australia after the war joined the Armenian relief movement which had mobilised a broad spectrum of Australian religious, political and civic leaders.
A neglected part of Australia's military history, the Anzac eyewitnesses to the Genocides and the Anzac rescuers of survivors is one of the brightest legacies of Australian military service beyond our shores.
Article on the Anzac POWs and the Armenian Genocide by leading expert Dr Panayiotis Diamadis.
'Precious and Honoured Guests of the Ottoman Government', Genocide Perspectives II, ed. Colin Tatz, Brandl & Schlesinger, 2002.
Australian Archival Sources
Wheat, J H, Typescript of a diary compiled by Wheat, a member of the Australian AE2 submarine captured by the Ottoman Turks in April 1915 shortly after the AE2 penetrated the Dardanelles. Wheat was among the many Anzac POWs held captive in abandoned Armenian churches and homes in Ottoman Turkey during WW1. See digitised diary in the Australian War Memorial http://ae2.ivec.org/pdf/AWM_3DRL-2965.pdf
Also, see transcript of Wheat\'s diary in the State Library of NSW website http://acms.sl.nsw.gov.au/_transcript/2012/D16835/a3901.htm
Handsley, George. Handsley was a Light Horseman captured by the Ottoman Turks in Palestine during WW1. See http://www.australiansatwar.gov.au/stories/stories_war=W1_id=133.html
For a digital copy of George Handsley\'s book, \'Two and a half-years prisoner in Turkey\', and other sources on Anzac POWs in Turkey held in the National Archives of Australia:
Go to http://www.naa.gov.au/collection/search/index.aspx
Click on 'begin search'
Type 'prisoner of war turkey'
Click 'digitised item' on right hand side
Bibliography of Books by Anzac POWs who witnessed the events surrounding the Armenian Genocide in Ottoman Turkey during WW1:
Brown, H. A. Diary. Mitchell Library ML MSS 5. (AE2 Submarine POW Turkey).
Halpin, J. Blood in the Mists, Sydney, Macquarie Head Press, 1934.
Halpin, J. \'Captives of the Turk\', in Reveille RSS&AILA, NSW Branch, Sydney. 1 Mar 1934, 1 Apr 1934, 1 May 1934, 1 Jun 1934, 1 Jul 1934, p25, 26. p48. p29. p15..
Jones, E. H. \'The Road To En-Dor \', London, Pan Books, 1955.
Lushington, R. F. A Prisoner With The Turks 1915 - 1918, London, Simpkin, Marshall, Hamilton, Kent & Co. Ltd, 1923.
Luscombe, L. H. The Story of Harold Earl - Australian, Brisbane, W. R. Smith & Paterson, 1970.
Richardson, L.D. Diary. Mitchell Library ML MSS 2447. Signaller, 1LHR. Anzac. Experiences as a POW in Turkey.
Wheat, J.H. Papers. Mitchell Library ML MSS 3054. (AE2 Submarine POW Turkey).
White, T. W. Guests of the Unspeakable. The Oddyssey of an Australian Airman - being a record of Captivity and Escape in Turkey, 2nd Australian edition, Sydney, Angus & Robertson, 1935.