Denial
"Deniers operate as the original agents of the perpetrators [of the genocide], pursuing and hounding victims through time, Through these agents, the perpetrators reach once again into the lives of the victims long after their escape from the perpetrators' physical grasp." Dr Henry Theriault
When international jurist Raphael Lemkin coined the term "genocide" in 1944, he cited the mass deportations and massacres of Armenians between 1915-1923 by the Ottoman Turkish government as a defining example of what the word meant.
See online exhibition - Letters of Conscience: Raphael Lemkin and the Quest to end Genocide http://lemkin.cjh.org/exhibits/show/letters-of-conscience/case-studies
Despite Lemkin's definition, hundreds of books by genocide scholars, tons of documents in Australian, British, French, American, Russian, Austrian and German archives, eyewitness accounts, diplomatic reports and Western newspaper reports; successive governments of Turkey have for more than 95 years explicitly denied that in 1915 the Ottoman Turkish government committed a deliberate, government-organised genocide against its Armenian population.
It should be noted that unlike deniers of the Jewish Holocaust, who constitute the fringe of society, the historical denial of the Armenian Genocide is being carried out by the Turkish state, which maintains tight control over state archives, history curricula in Turkish schools, and the penal system in order to suppress dissenting viewpoints.
See 'Armenian Genocide denier Justin McCarthy to speak at Parliament House, ABC online, 16 Nov 2013 http://www.abc.net.au/news/2013-11-15/armenian-genocide-denier-to-speak-at-parliament-house/5095656
Today, the Turkish government presents a largely distorted narrative of the historical presence of Armenians in Turkey. Revisionist maps and official history in Turkey make little or no mention of the historical presence and contributions of the Armenian people in their ancestral homeland. Furthermore, contributions of Armenians during the defence of Gallipoli by the Ottoman Army during WW1 have been largely excluded from the record. See http://www.independent.co.uk/voices/comment/the-armenian-hero-whom-turkey-would-prefer-to-forget-8612890.html
As beneficiary of the confiscated wealth and property of the more than 2.5 million Armenians that lived in the Ottoman Empire before 1915, the Republic of Turkey has also closed all but 50 of the more than 3,000 Armenian Churches which were in operation before the commencement of the Armenian Genocide. See http://www.genocide-museum.am/eng/cultural_genocide.php and 'The Destruction of Memory' by Robert Bevan http://www.press.uchicago.edu/Misc/Chicago/1861892055.html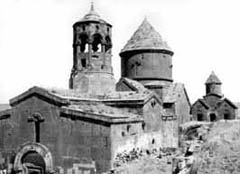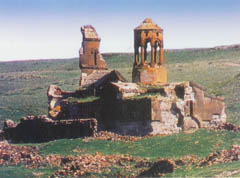 The view of the ancient Armenian Horomos Monastery before 1965 and in 1998 (photo S. Karapetian)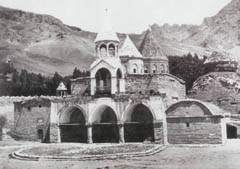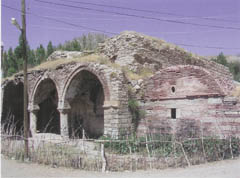 Van, Varag Monastery, 5th-19th centuries, early 1900s and 2004 (photo 2004, S. Karapetian)
While officially Turkey denies Ottoman Turkish responsibility for the Armenian Genocide and enforces article 301 of the Turkish Penal Code under which individuals in Turkey can be prosecuted for even mentioning the Armenian Genocide, some brave and righteous Turks have begun to address the issue.
Genocide historian Taner Akcam, publisher Ragip Zarakolu, Nobel Prize laureate Orhan Pamuk, human rights lawyer Fethiye Cetin, novelist Elif Shafak, journalist Hasan Cemal and other Turkish intellectuals have spoken about the Armenian Genocide at great risk of prosecution and even personal safety.
Joining Armenians in Armenia and across the world, these Turkish intellectuals have called upon the Turkish government to acknowledge Ottoman responsibility of the Armenian Genocide and to seek a just resolution of this crime against humanity. See http://www.newstatesman.com/world-affairs/2013/04/it-time-turkey-recognise-historical-fact-armenian-genocide
In December 2012, many Turkish writers, academics, former politicians and mayors, sent a letter of protest to the Danish Royal Library for holding a Turkish government sponsored exhibition that denied the Armenian Genocide. The letter stated that "it is incorrect to suggest that two different views of what happened in 1915 are possible. Over 1 million Ottoman-Armenian citizens were forced out of their homes and anihilated in furtherance of an intentional state policy ... An honest reckoning of history is the non-negotiable precondition of a true democracy."

In spite of these growing calls, Turkey maintains that Armenian and Turkish historians must discuss the events of 1915 in a historical commission in order to determine whether they constituted genocide. The International Association of Genocide Scholars (IAGS), the preeminent independent academic body for research on genocide, views such a commission as a move designed to continue to deny or distort the historical reality of the Armenian Genocide. Australia's Geoffrey Robertson QC states that 'no authoritative decision will come from a committee of historians - the issue requires an independent judicial decision. Any "definition of existing problems" would have to begin by the repeal of Article 301 of the Turkish Penal Code, which as interpreted makes it an offence to use the word "genocide" in Turkey in respect of the Armenian massacres.' See p32 http://www.geoffreyrobertson.com/pdf/ArmenianGenocideGRQC.pdf
As a result of the Armenian Genocide, the modern state of Armenia remains landlocked and does not constitute all of the lands once historically occupied by Armenians. Turkey, the successor state and beneficiary of the Ottoman perpetrators of the Armenian Genocide, currently maintains an economic blockade of Armenia which endangers the country's socio-economic viability, security and sustainability. Furthermore, Armenians in Turkey are officially referred to as "indigenous foreigners" by the state's courts. See http://www.rightsagenda.org/index.php?option=com_content&view=article&id=716:religious-freedom-in-turkey&catid=80:aliasfreedom-of-thought-and-expression&Itemid=119
Turkey's continued denial has meant that more than 95 years after the commencement of the Armenian Genocide, a just resolution, ensuring the sustainability and viability of the Armenian state and solace for the Armenian people, has not been reached.
Genocide scholars consider "genocide denial" as the final stage of genocide. Holocaust scholar, Deborah Lipstadt, states that "Denial of Genocide - whether that of the Turks against the Armenians or the Nazis against the Jews - is not an act of historical interpretation. Genocide deniers conspire to reshape history in order to demonize the victims and rehabilitate the perpetrators. It is what Elie Weisel has called a 'double killing'. Denial murders the dignity of the survivors and seeks to destroy remembrance of the crime." see http://www.facinghistory.org/resources/facingtoday/confronting-genocide-denial
PDF Links
UNHCR "TV debate programme suspended because of references to Armenian genocide" See http://www.refworld.org/docid/4c2d9cf420.html